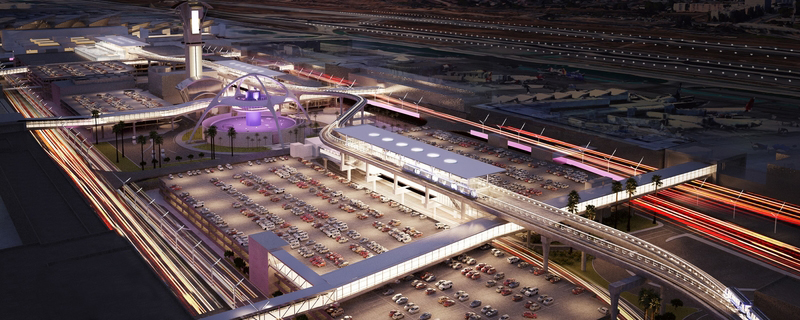 LAX Automated People Mover
The LAX Automated People Mover (APM)project is a $2 billion dollar electric train system designed to revolutionize the traveler experience at LAX by providing easy access to the airport, improving reliability and mobility, while significantly reducing the amount of vehicle traffic and pollution output each day.

The elevated guideway system starts 3 miles from the airport at the Consolidated Rent-a-Car facility (ConRAC), making stops at each terminal before ending at the sixth station, Pan-Pacific's Tom Bradley terminal.

Overseeing the project is General Contractor, LINXS Constructors, a joint venture team consisting of five general contracting companies; Fluor, Balfour Beatty Infrastructure, Flatiron West, Dragados USA and HDR Engineering, each bringing their knowledge and expertise to the anticipated LEED® Gold Certified project. APM will completely transform the experience for travelers at one of America's busiest and most iconic airports, while bringing jobs and workforce development to the local community.

Pan-Pacific is responsible for the total mechanical scope on this project, which began construction in November of last year. At its peak, the project could see up to 50 people performing work on-site. It is currently in the early stages of construction on two of the eleven total buildings, expecting to reach completion by May 2023.

The underground plumbing and hydronic piping work has began on the Maintenance & Storage Facility. The MSF has its own mechanical central plant facility that generates half of its power from solar energy, as well as an oil waste retention system for train wash bays and compressed air systems for maintenance operations. The MSF will house the 44 electric train cars as they go in and out of service. The elevated station stops, as well as pedestrian walkways, are preparing to begin in the coming months.

General Contractor:
LINXS Constructors (JV)

Owner:
Los Angeles World Airports

Contract Amount:
$28.9 Million

Scope:
Total Mechanical

Start Date:
November 2019

Projected Completion:
May 2023

Project Type:
Transportation/Infrastructure

Delivery Method:
Plan & Spec

Size:
2.25 miles

The LAX APM Team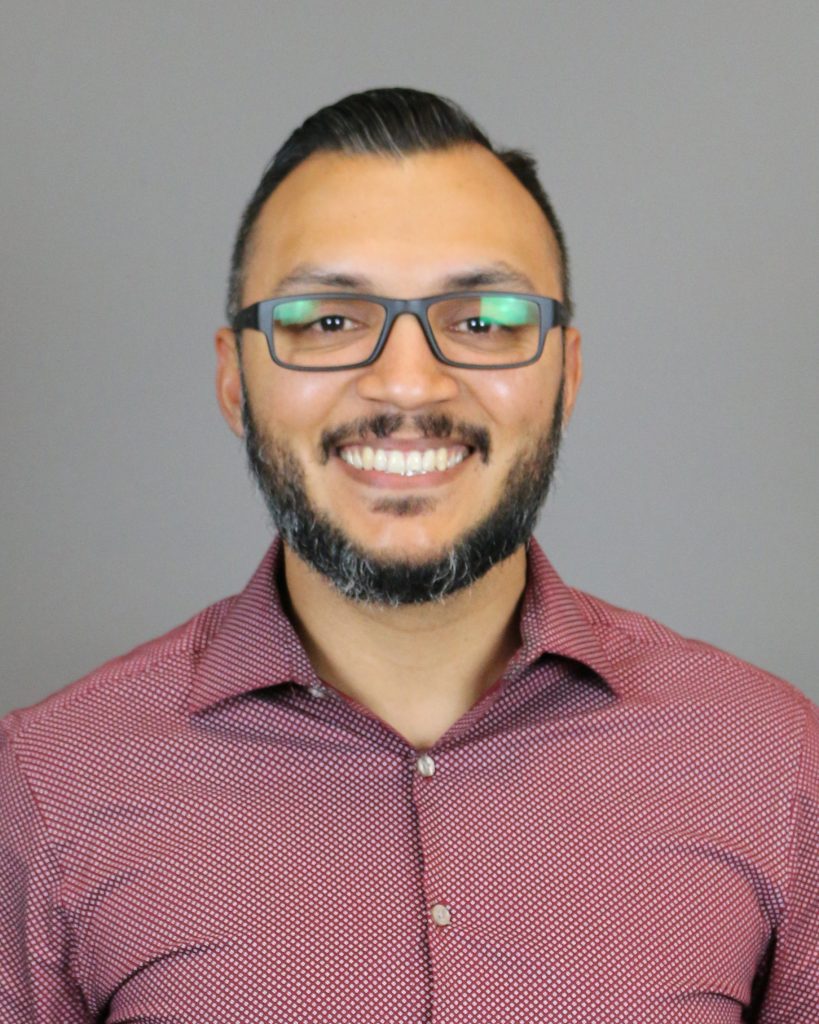 Matt Torres - Plumbing Project Manager

Just surpassing his two-year anniversary with the company, Matt Torres is hard at work managing the early stages of construction at the People Mover project. Previously, Matt spent time on the 400 South Broadway project and is also managing the 2900 Wilshire Residence Tower. On each of his projects, Matt strives to cultivate a team that is able to learn and succeed alongside one another. Since his start at PPM, he has felt welcomed by the atmosphere and team vibe Pan-Pacific has provided him. "I appreciate the constant team mentality and hard work ethic that all of the PPM team members express. While each of us is under the constant, but differing pressures of construction, everyone I work with is so friendly. It's a wonderful environment to grow in personally and professionally."

In his time outside of work, he plays in competitive paintball tournaments and has participated in tournaments across the country. He also finds time to train in Brazilian Jiu Jitsu. Matt lives in Phillips Ranch with this wife, Brittni, and his two daughters Leila (6) and Penelope (3).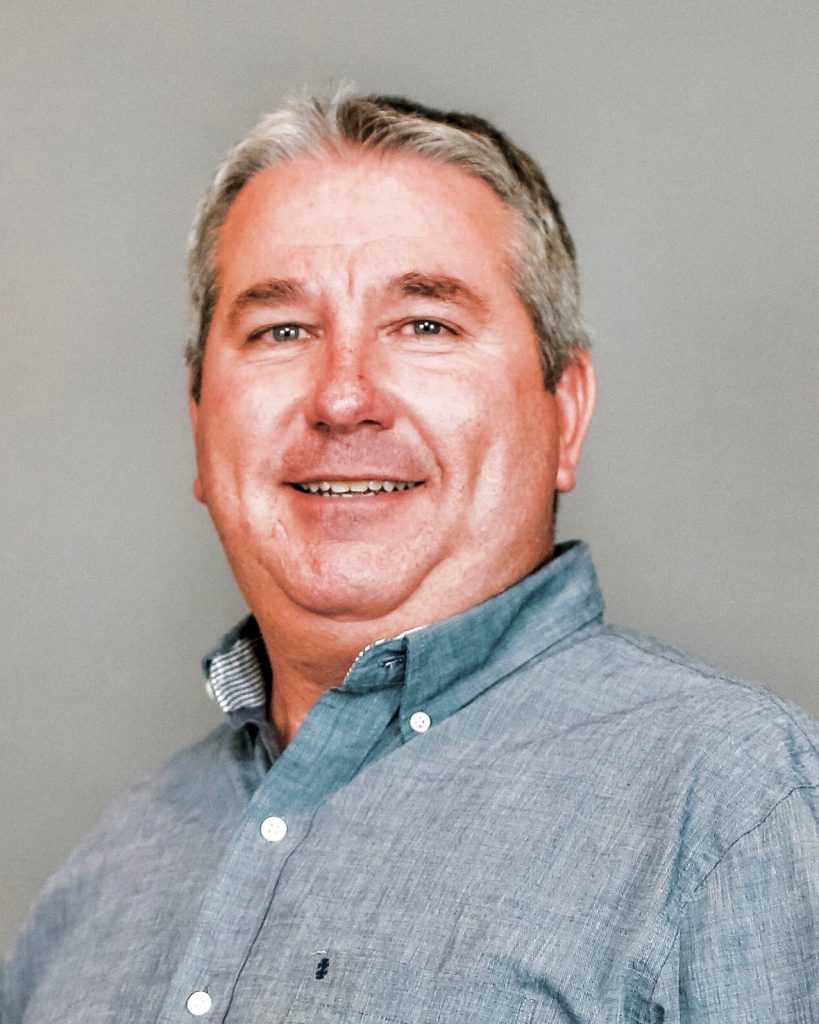 Mike Lewis - Plumbing General Foreman

Employed with PPM for 21 years, Mike Lewis is amongst Pan-Pacific's longest standing employees. Throughout his years at the company, nothing beats the amount of memories he has made on all of the great projects that he has been a part of. Mike has appreciated the recognition that employees receive for their efforts at the company. He has always felt that he could lean on the high levels of experience at Pan-Pacific. "Pan-Pacific has always provided employees the opportunity to grow into leadership positions, as well as the training to succeed in those roles. If you need help in any area, there is always someone there for you. " He has been married to his wife, Leanne, for 22 years and has two teenage children, Justin and Erika.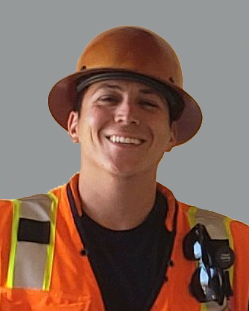 Joe Buelna - HVAC General Foreman

Joseph Buelna began his career in the sheet metal industry 17 years ago working for his father. He also has two brothers in the sheet metal trade. He has enjoyed working at Pan-Pacific for the last year and a half and is a firm believer that it doesn't get any better than this! In addition to the LAX AMP project he is also contributing to 400 South Broadway and the Moulton Niguel Water District project. His most memorable experience at Pan has been the USC Village project, which he believes has been one of his best learning experiences. Joseph is excited to work with the highly skilled team on the People Mover project and is excited to reach successful results at LAX. He lives in Rancho Cucamonga and enjoys outdoor activities like snowboarding, skydiving, riding street bikes, off-roading and playing golf.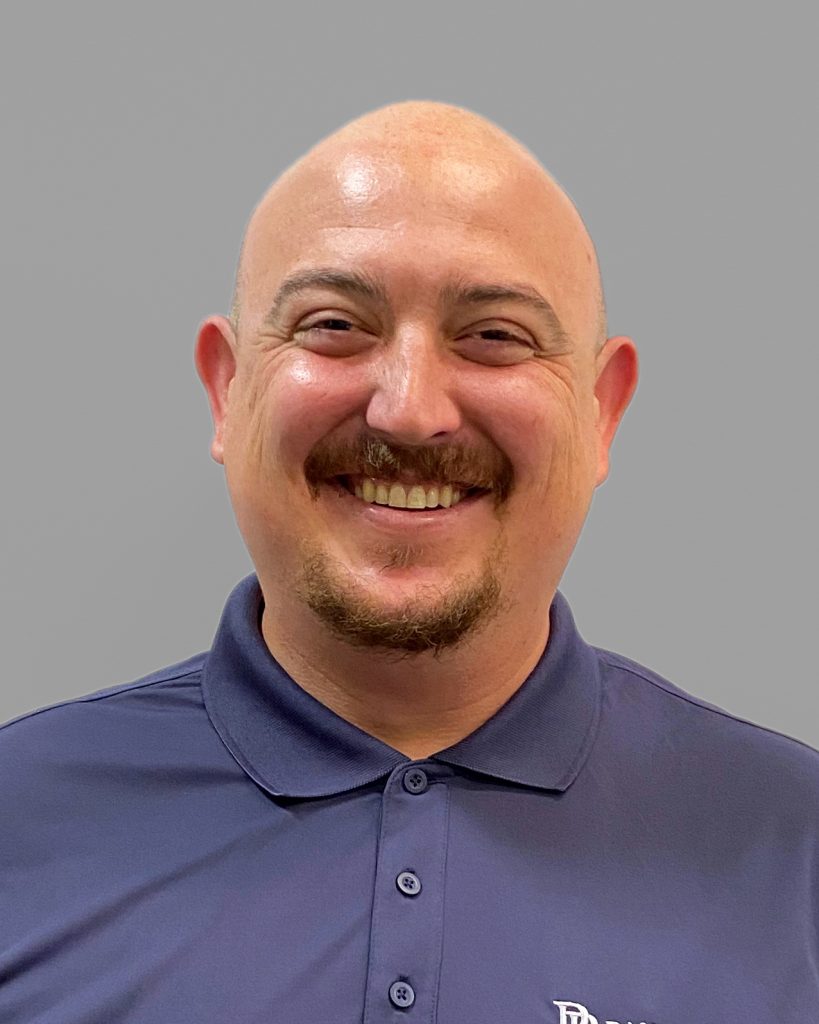 Matt Boren - Pipefitting General Foreman

Matt Boren has been with PPM for 2 years. He lives with his wife Alexandra and their 5 children in Garden Grove. Matt loves the unmatched brotherhood at Pan-Pacific and credits his successes to the crews he works with every day. "Pan has acquired top fitters in the industry and we all use each other as resources. At any time, if I were in a pinch, I could call any of my colleagues and they would drop what they are doing to help. We all do that for each other."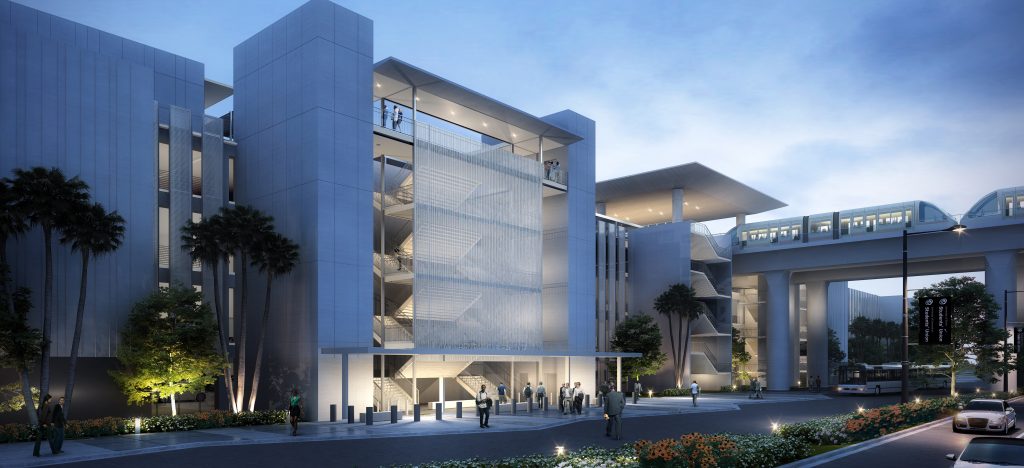 CONRAC

Pan-Pacific's Fuel Oil Division is taking part in LAX's Consolidated Rent-A-Car facility, set to be the world's largest gas station with a record breaking 186 fueling dispensers. The project involves the development of a new facility that will consolidate the operations of rental car agencies at LAX, which are currently spread across 23 separate properties surrounding the airport. Expected to comprise almost six million square feet, the targeted LEED® Silver project will be the largest ConRAC facility ever built relocating existing rental car locations scattered around the airport area into one convenient location adjacent to the 405 freeway.

The ConRAC facility will provide direct connection to LAX's Automated People Mover (APM) train system. With this direct connection, rental car shuttles will no longer be needed, which will result in the elimination of more than 3,200 daily rental car shuttle trips. It also features a Quick Turn Around (QTA) area, allowing for the light maintenance of vehicles such as car washing, oil changes and tire rotation. This QTA facility will help alleviate traffic congestion by keeping operations within the footprint of LAX and not out on the city streets.

Pan-Pacific is handling the Fuel Oil scope of the project installing seven 45,000 gallon underground gasoline tanks in a 20 feet deep mass excavated tank farm. Ninety three dual hose dispensers will be installed throughout three floors making it the largest gas station in the world. All piping and tanks will be dual-walled with integrated electronic leak detection.

General Contractor:
PCL Construction

Owner:
LAWA

Contract Amount:
$12.3 Million

Scope:
Fuel Oil

Start Date:
April 2020

Projected Completion:
May 2022

Project Type:
Transportation/Infrastructure

Delivery Method:
Plan & Spec

Size:
6.3 Million Square Feet

The CONRAC Team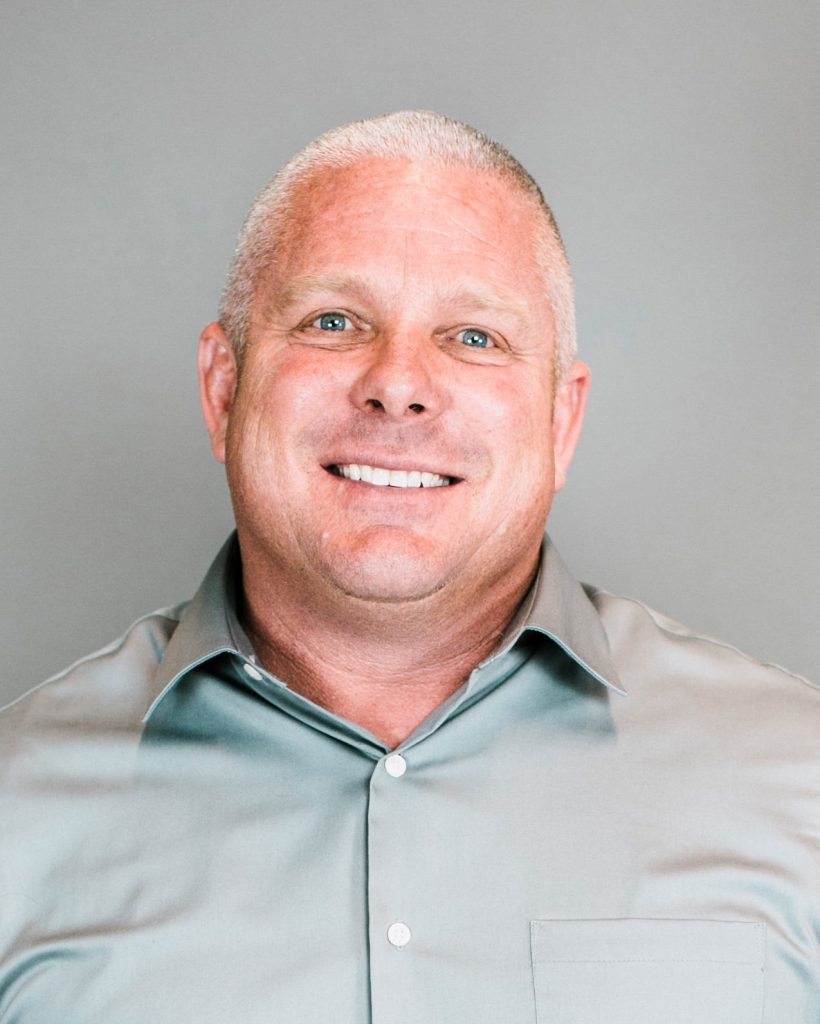 Jonny Weber - Fuel Oil General Foreman

Jonny joined Pan two years ago when he was recruited by Mike Hoxworth as part of our Fuel Oil team. He is currently working on LAX ConRAC, Loma Linda Medical Center, and several other Fuel Oil projects. He enjoys the incredible support staff and welcoming atmosphere at Pan-Pacific.

Jonny lives in Corona with his wife of 24 years, Shannon. They have three daughters, Taylor (24), Riley (18) and Jayden (13).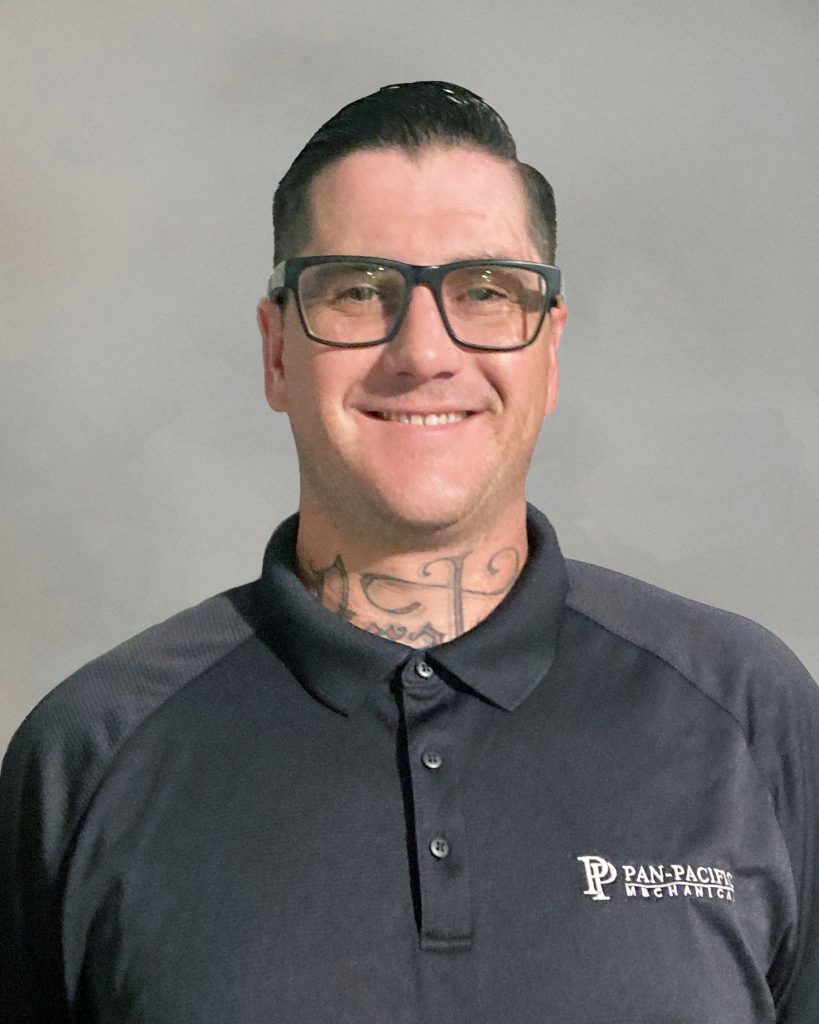 Jon Edmiston - Plumbing General Foreman

Jon Edmiston has been with Pan-Pacific for 8 years, and is currently working on the LAX ConRAC project. Jon has also contributed to the Tom Bradley terminal, KP Chino Hills, Barstow Marine Logistics Base, UCR Lab, Los Angeles Football Training Club and Alexandria Headquarters.

Jon lives in Oak Hills with his wife Megan and two sons, Cash (7) and Maverick (5). He enjoys shooting, golfing and boating with family in his spare time.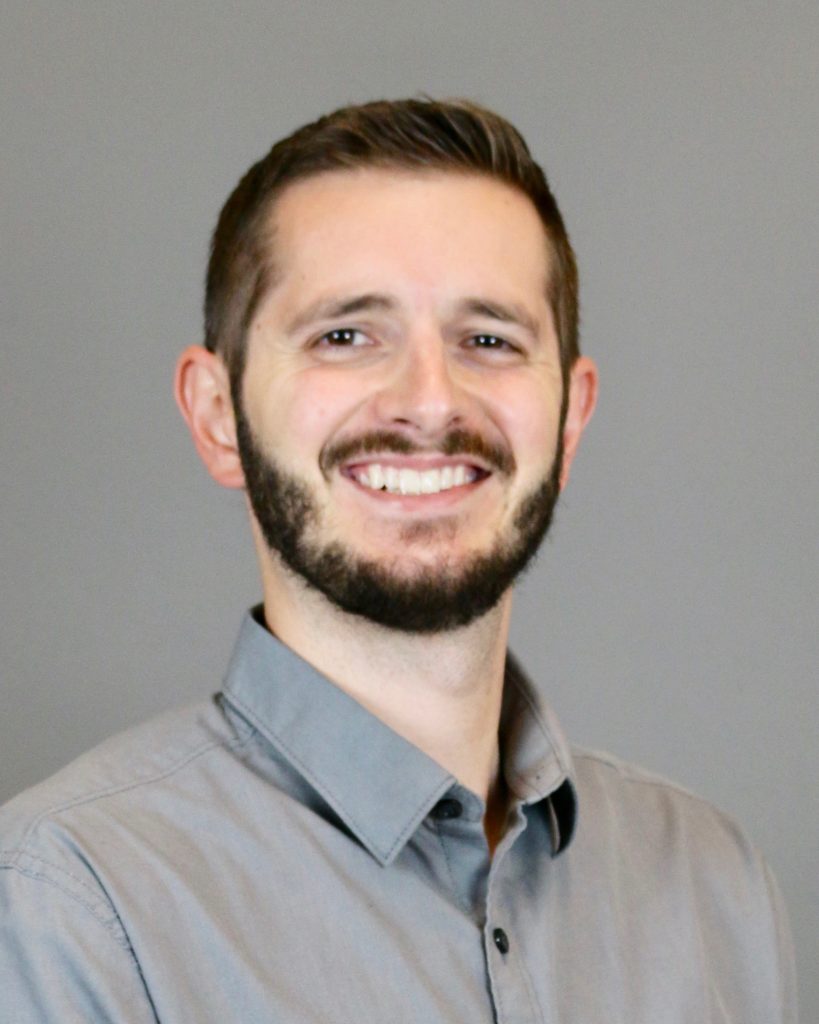 Jeremy Busch - Project Manager

East Coast born, but loving Southern California, Jeremy has been with Pan-Pacific two years previously working on Kaiser Permanente South Bay, Cedars-Sinai, City of Hope Office Building and more. Jeremy acknowledges the employee appreciation shown not only in our office, but to our field crews, vendors, subcontractors and more.

"It's great to see a company recognize the various people that help make the machine run. Everyone is willing to help one another no matter your department, project or position in the company." - Jeremy Busch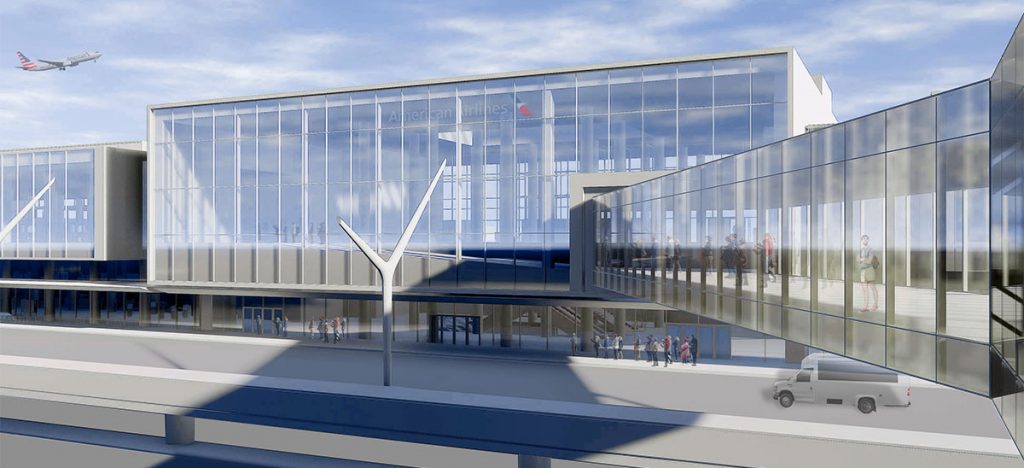 American Airlines Terminal 4.5

Committed to "re-imagining LAX," American Airlines has broke ground on the $1.6 billion dollar renovation of its two AA terminals at LAX, one of the largest terminal rehabs ever undertaken by a carrier at a U.S. airport.

Also known as AA T4.5, the Terminal Core is the first key development in the project. This state-of-the-art pedestrian passage way will have an elevated walkway connecting to LAX People Mover, while housing 16 security lines that will feed passengers to all of American Airlines' 28 gates in Terminals 4 and 5.

Pan-Pacific will be performing the plumbing scope of work on the 5-story project. Currently, the demo stages of the existing building core are underway with excavation and underground activities scheduled to start summer 2020.

General Contractor:
Hensel Phelps

Contract Amount:
$1.7 Million

Scope:
Plumbing

Start Date:
November 2019

Projected Completion:
August 2022

Project Type:
Transportation/Infrastructure

Delivery Method:
Design-Assist

Size:
300,000+ Square Feet
28-gate complex

The AAT4.5 Team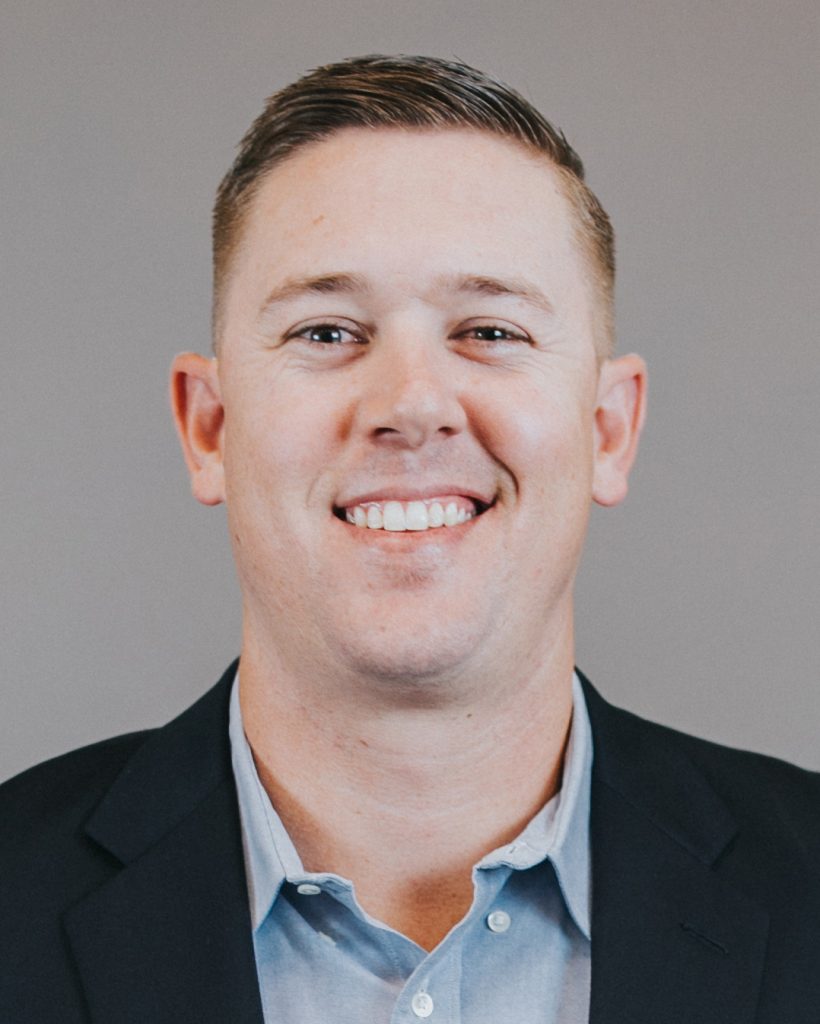 Graham Bills - Project Manager

Graham Bills is a 5-year employee of Pan-Pacific who was born and raised in the Southern California construction industry. He is an avid sports fan, playing baseball in college as well as currently coaching little league teams for his son's baseball and flag football teams. Graham is married to his wife, Melissa, and has three children; Hudson (7), Hadley (5), and Harlan (2), as well as an 8-year-old German Shorthaired Pointer, Ruby.

Graham is currently the Project Manager for both American Airlines T4.5, and the LAX Delta Skyway Terminal 3. He is also working on a handful of other projects including Crenshaw Rail, LAX BOP, St. Bernadine's Seismic Upgrade, California Market Center, and will soon be starting the 8th & Fig residential tower in DTLA.

Graham expressed his gratitude to the team he is part of. "Every year, every project, brings new memories, but my favorite memories include the people I work with. Pan-Pacific has an abundance of amazing people and I feel very fortunate to work alongside them."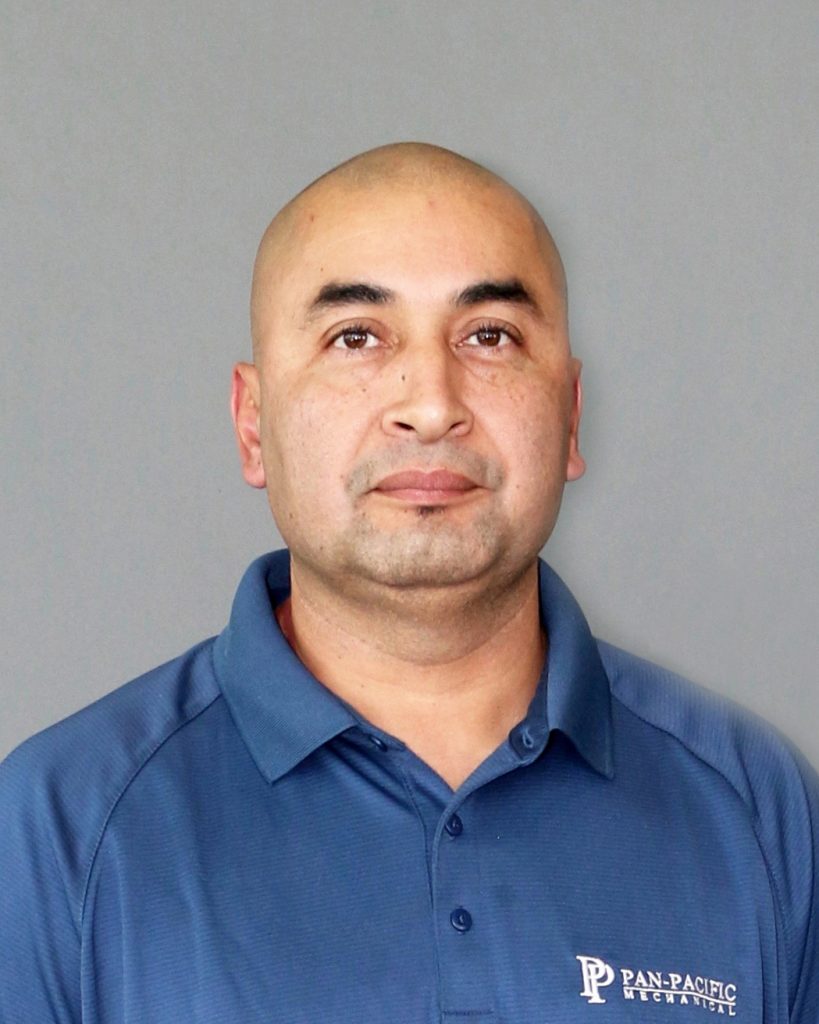 Hans Gabriel - Plumbing General Foreman

Hans has been with Pan for 8 years and has spent most of that time working on LAX projects including the TBIT West Expansion, Terminal 2 Systems, the recently completed Centurion Lounge, The T4 Admirals Lounge, The Qantas Air Lounge, T4 Connector, Terminal 1 Food Court, and the T4-T8 ITMP project. Hans enjoys the family oriented culture and good communication at Pan-Pacific. His favorite memory from Pan is the completion of the TBIT West project, which was his biggest project at the time.

Hans enjoys playing softball and golfing in his spare time. He lives in Santa Clarita and has two daughters, Natalie (15) and Mariah (13), and one son Alex.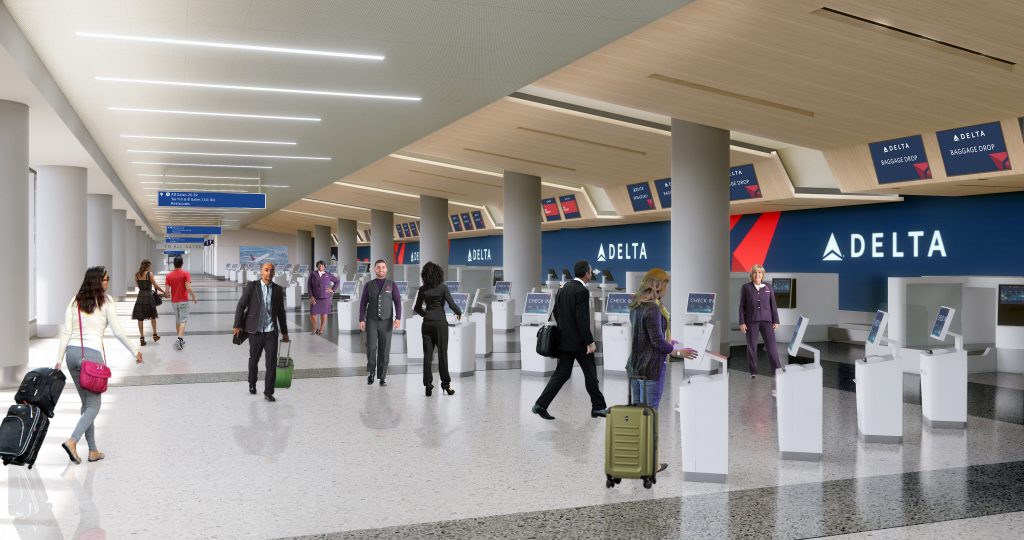 Delta Skyway Terminal 3
Los Angeles World Airports' largest tenant improvement in history, the 1.9 billion dollar Delta Sky Way Terminal 3 is underway with Project Manager Graham Bills and General Foreman Hans Gabriel leading the charge. Working with General Contractor Hensel Phelps, the project will modernize, upgrade and connect Terminals 2, 3 and B, the Tom Bradley Terminal. The connection of the terminals will aid in the integration of Automated People Mover, which is expected to be fully operational in 2023.

Rebuilding Delta's home at LAX, Pan-Pacific is currently excavating and installing underground plumbing for the Headhouse, which is the facility that houses check-in, baggage claim, the security screening checkpoint and more. The 5-story, ground-up project expects 20 guys at peak with project completion expected to wrap up in December 2021.

Several key components of the project will be complete by the end of 2021, including the centralized lobby between Terminals 2 and 3; the centralized security screening area; consolidated baggage claim area; the new 25,000-square-foot Delta Sky Club with a Sky Deck overlooking Terminals 2 and 3; and the Terminal 3 concourse. The remaining components, including the secure connector between Terminals 3 and B and the renovated Terminal 3 satellite, will be complete by the end of 2023.

General Contractor:
Hensel Phelps

Contract Amount:
$6.2 Million

Scope:
Plumbing

Start Date:
November 2019

Projected Completion:
December 2021

Project Type:
Transportation/Infrastructure

Delivery Method:
Plan & Spec

Size:
25,000 square feet

American Express Centurion Lounge
The American Express Centurion Lounge at LAX was recently completed with capacity to accomodate 530 guests. The project had a slow start due to LAX's strict standards, yet PPM hit the ground running to get the work completed on time. General Foreman Hans Gabriel did an excellent job managing manpower between AECL and the other open LAX projects. The entire crew did exceptional work prioritizing, which is a critical component on these fast-paced jobs. Design details on the project were but a few of the factors keeping the project tight on deadlines, such as bathroom sinks being shipped from Italy with a 17-week lead time. Hans and Field Foreman, Sam Nowak, responded promptly to all requests, making the project run smoothly from start to finish.

General Contractor:
Premier Interior Development

Contract Amount:
$1.3 Million

Scope:
Plumbing

Start Date:
May 2019

Projected Completion:
March 2020

Project Type:
Transportation/Infrastructure

Delivery Method:
Plan & Spec

Size:
14,000 Square Feet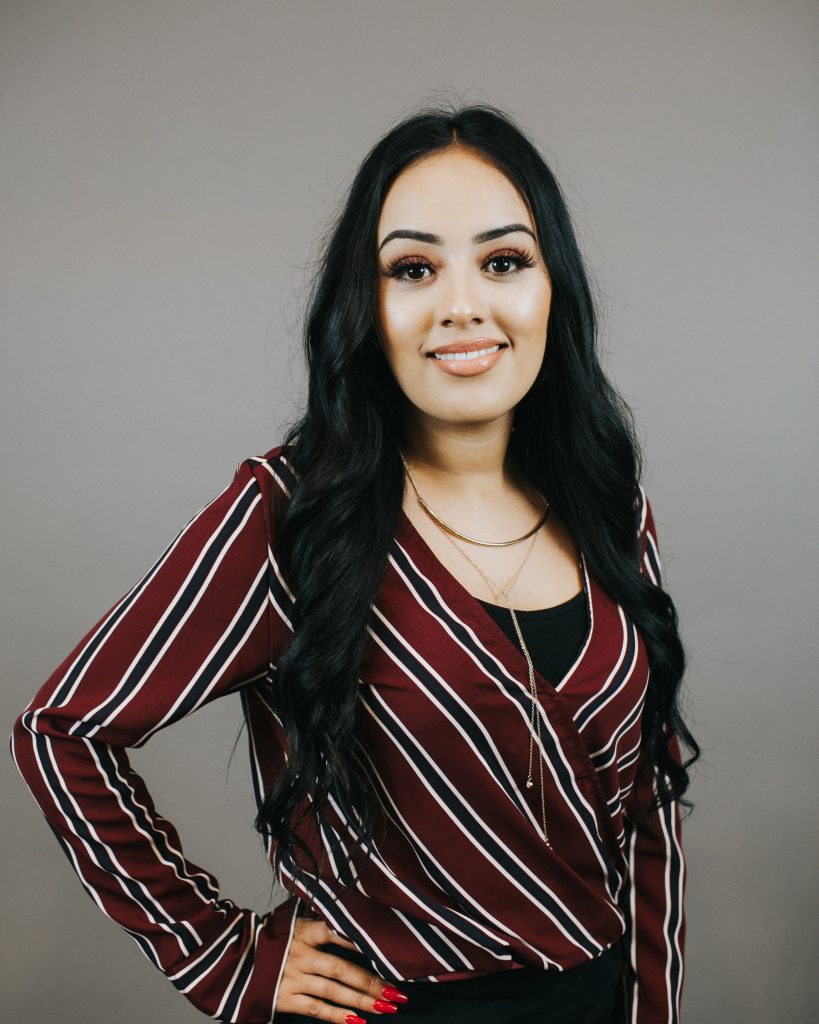 Ivette Escobedo - Project Manager

Ivette has been part of Pan-Pacific's Special Projects division for 4.5 years. In addition to several LAX projects, she has worked on Cal Mart, Beverly Hilton and UCI Classroom & Office building among others. She is currently closing out the LAX Centurion Lounge. One of Ivette's favorite things about working at Pan-Pacific has been the department outings.

Ivette was born and raised in Anaheim. She enjoys traditional Mexican cooking, visiting her family's ranch in Rosarito, Baja California, and occasionally attending makeup and beauty expos, which helps balance out her full-time work in the construction industry!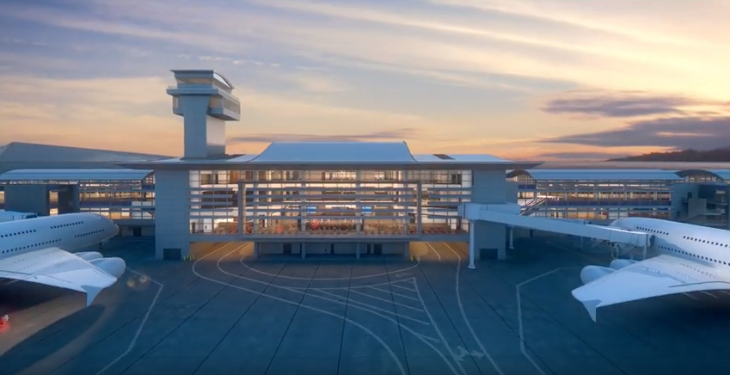 Southwest Terminal 1.5
Pan-Pacific has been hard at work constructing LAX Terminal 1.5, a new building located between Terminals 1 and 2. The new facility will ease congestion and provide connectivity between the two terminals eliminating the need for passengers to leave the secure area of the concourse by exiting the building to go through security again in order to make a connection.

The new Terminal 1.5 facility will be a five-level building - Basement, Arrivals, Departures, Concourse, Office, and Roof. Pan-Pacific has recently completed the Arrival and Departure ceilings and is currently finishing up the rough mechanical in the Office and Roof levels.

The project is near 70% completion, and has seen significant milestones along the way with large scale shutdowns that came after months of planning, field detailing, coordination and prefabrication.

The Chilled Water shutdown was T1.5's most complicated shutdown to date with crews working in six different areas of Terminal 1 simultaneously. The shutdown relocated the existing CHW risers while keeping the terminal fully operational during the shutdown.

The second shutdown of the project included the high temperature Heating Hot Water (212 degrees Farenheit) shutdown/tie-in. The shutdown tied the existing campus HHW lines into the future T1.5 pump room. The crew worked nine feet deep, running piping underneath existing footings in an active terminal. Not only did the crew work in extremely challenging conditions, they worked off hours and nights to get the job done without impacting any airport operations. Work continued with CHW tie-in installing a bypass to keep the critical rooms operational (electrical, IT, etc…).

The LAX T1.5 team has worked safely and efficiently, with no accidents, injuries and ahead of schedule. An overall great performance from our field team led by Project Managers Tim McElwee, Carlos Gonzalez, General Foremen Khai Nyugen, Joe Sergi, and Richard Spears, Foremen Mike Gehres and Chris Zich, Sr., Superintendents Paul Lopez and Chris Ellis, Safety Manager Sal Olivia and many more. At peak manpower, the terminal expects to see 30-35 guys which represent several of Pan-Pac's finest.

General Contractor:
Hensel Phelps

Contract Amount:
$15.5 Million

Scope:
HVAC

Start Date:
May 2019

Projected Completion:
November 2020

Project Type:
Transportation/ Infrastructure

Delivery Method:
Design-Build

Size:
417,515 Square Feet

The Southwest T1.5 Team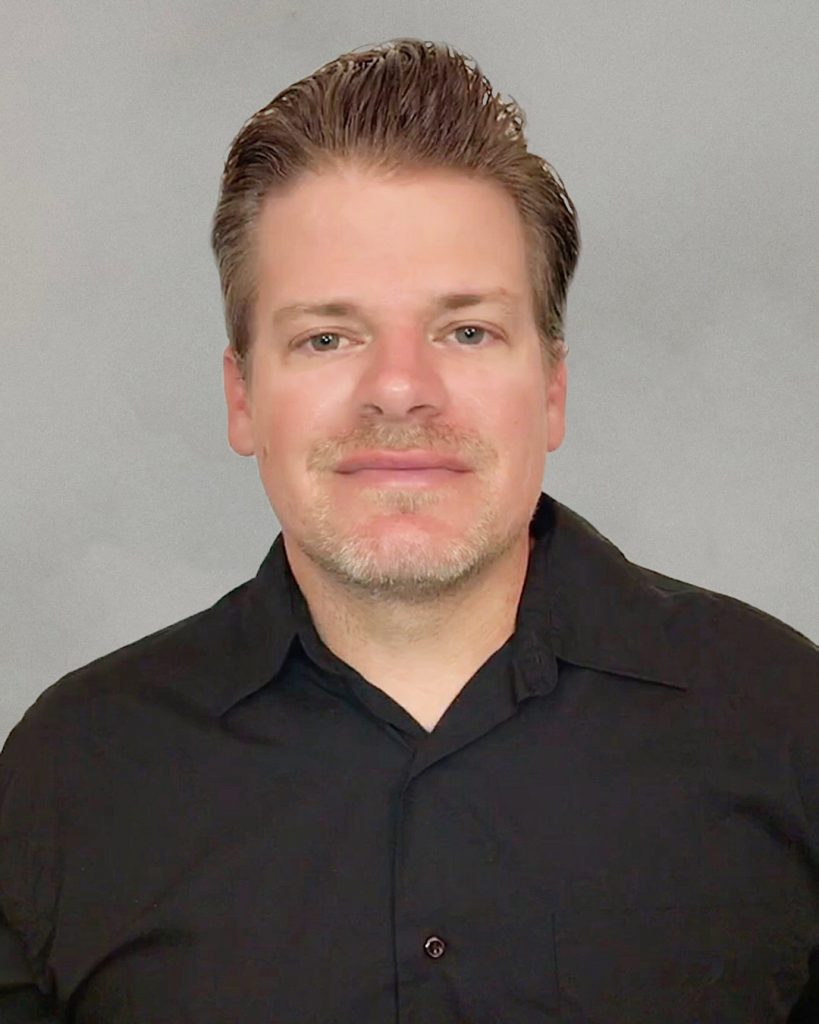 Joe Sergi - Pipefitting General Foreman

Joe joined the Pan team six years ago and has contributed to projects like CHOC, multiple Kaiser Permanente projects, Boeing Seal Beach, TBIT, Qantas Lounge, John Wayne Airport, and the LAX T1.5 shutdown with Khai Nguyen. Joe and his wife Kate, live with their three kids Axel (6), Ava (3), and Asher (9 mo.) in West Garden Grove. Joe enjoys going to the river with family, building hot rods and dirt-biking.

"The thing I like the best about Pan-Pacific is that it's still run like a small family oriented business, but we get to work on some of the bigger and cooler projects on the West Coast. Something you can be proud to tell your family and friends about." - Joe Sergi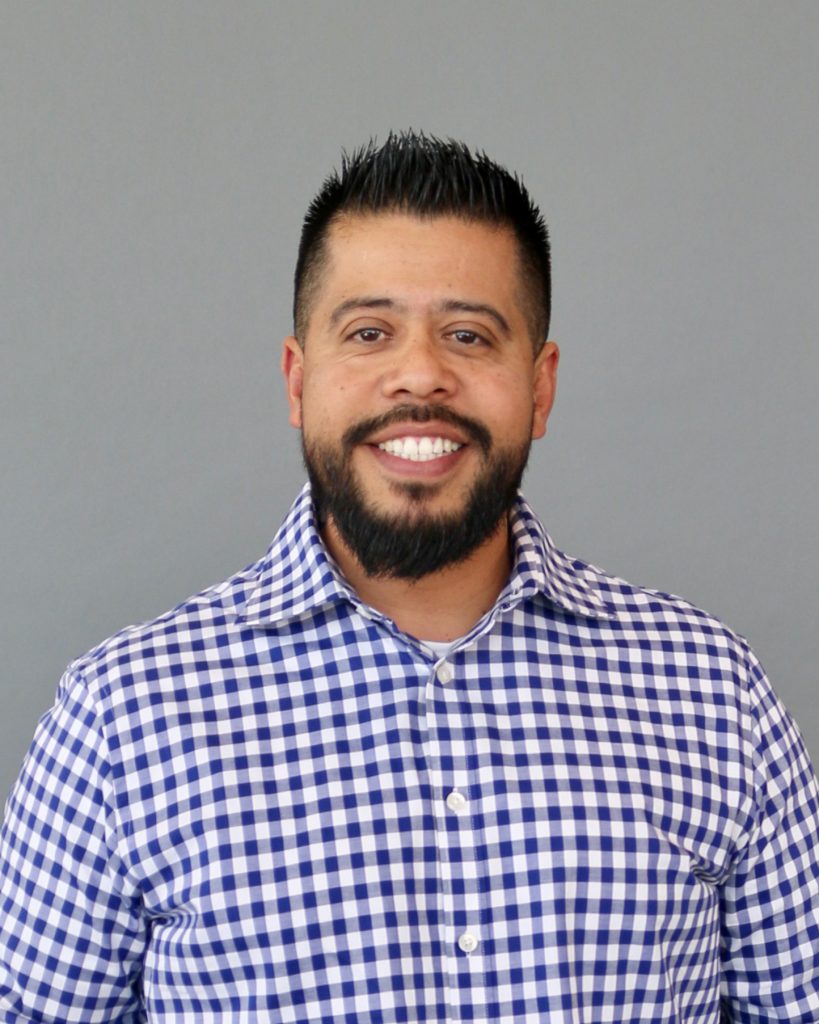 Carlos Gonzalez - Project Manager

Carlos Gonzalez is a first year employee with Pan-Pacific who has worked in the construction industry for more than 16 years. His time spent in the industry allowed him to be part of projects such as Cedars-Sinai Medical, Boeing, Northrop Grumman, Lockeed Martin, Raytheon, Aerospace Corporation and more. One of the things that stands out to Carlos in his time at Pan-Pacific is the work culture and support of the team members. "It makes my job easier to know I have all of these resources available." Carlos lives in Gardena, CA and has two children, Evana (13) and Xavier (10).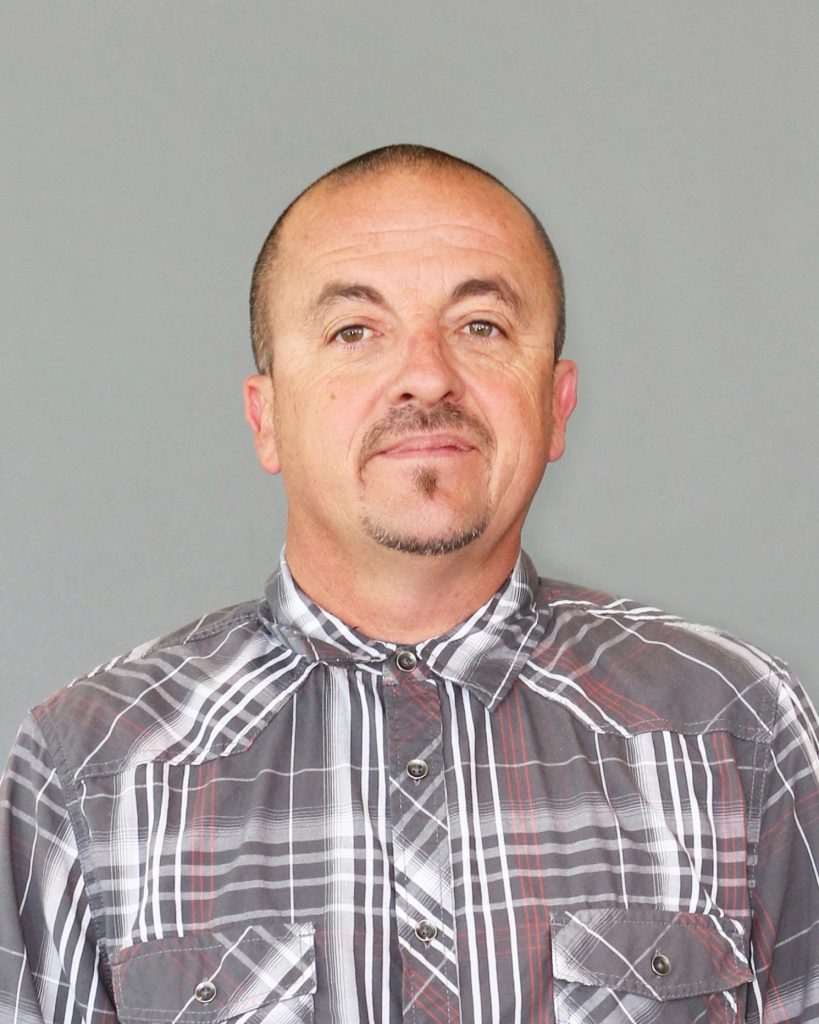 Richard Spears - Sheet Metal General Foreman

Richard recently passed his one year mark with Pan-Pacific, and is currently working on LAX T1.5, Bunker Hill, and KP Baldwin Park. He has also contributed to LAX Terminal 7, Citizen's Business Bank Arena, Boeing, UCLA and Disneyland projects. He appreciates Pan's support of the team and desire to be the best in our industry. Richard lives with his wife in Rancho Cucamonga and has one son.